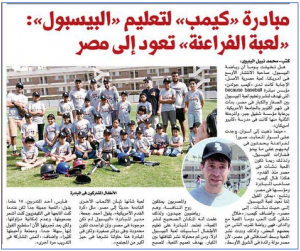 Gabr Fellow Restores Game of the Pharohs
10 May 2017
Almasry Alyoum, an Independent Newspaper in Egypt covered 2015 Gabr Fellow Kemp Gouldin's 'Because Baseball', an Action Project part of the East-West: The Art of Dialogue Initiative of the Shafik Gabr Foundation in their May 9th 2017, publication.
In the interview Kemp shares of his early childhood and playing the game of baseball with his parents and peers, sharing the capacity that sport, and in specific baseball, has to bring people together.
In speaking with Almasry Alyoum, Kemp's reasoning for bringing baseball to Egypt is that, "Egypt is a leader in the Arab World and the Middle East, and the Egyptian people [themselves] are very competitive, and very good athletes and so Egypt is the right place to start, and spread, the sport all over the region."
'Because Baseball' is a project that believes they are not necessarily bringing baseball to Egypt for the first time, rather, returning baseball to Egypt.
"In the South of Egypt, in Aswan in the sides of temples there are Pharohs holding what appears to be a baseball bat and a baseball, so the historical record indicates that maybe baseball began long ago in Egypt," offered Kemp.
Almasry Youm as well interviewed 15 year old Egypt baseball trainee, Fares, on his thoughts on the project. Young Fares shared "The game [baseball] is very beautiful, but so often when you watch it on television you find it cannot be emulated, but after being trained in person, I can now say that it is very, easy, fun, and I love baseball very much. I wish to participate in training again."
To Read Almasry Alyoum's full coverage in Arabic click here, and watch the interview here: